Workshop | Collaboration Between Civil Society Organizations on the Right to Adequate Housing and Urban Issues in Egypt
Our cities suffer from a wide range of urban challenges, which have exacerbated over the past few decades. In the absence of real state involvement, many Civil Society Organizations (CSOs) emerged to fill this void and attempt to address these problems. The complexity of these challenges requires the collaboration of CSOs, activists, practitioners, developers and academics to effectively influence decision and policymakers and – the often misguided – state interventions and put housing and urban problems at the heart of the national social equity struggle.
In light of these challenges, the United Nations Development Programme (UNDP) and the Urban Reform Coalition organized a workshop on 24 March 2014 to discuss potential avenues of collaboration between different civil society stakeholders to advance housing rights and urban issues in Egypt. The workshop aimed to start a dialogue on strategic interventions to activate the role of these organizations – individually and collectively – on the local and decision-making levels, and to realize and push forward the basic principles of the Right to the City and all human settlements.
The discussion was enriched by the diversity of attendees, which included members of the Urban Reform Coalition, as well as academics, researchers and activists in the urban field and local initiatives (legan sha`biyya) in popular and informal districts.
The Urban Reform Coalition emerged in 2013 with the aim to monitor and reform urban policies and practices in Egypt through research; coordinate the activities of various actors in the urban sphere; and promote collective organized efforts on the ground to achieve more efficient, equitable, and sustainable urbanization that achieves the basic principles of the Right to City and all human settlements.
To Date, the coalition produced "A Constitutional Approach to Urban Egypt" for the inclusion of urban rights in the constitutional redrafting in 2013, as well as published reports on the status of urban issues in Egypt with United Nations committees.
The coalition is comprised of (in alphabetical order):
Egyptian Center for Civic and Legislative Reform (ECCLR)
Egyptian Centre for Economic and Social Rights (ECESR)
Egyptian Initiative for Personal Rights (EIPR)
Housing and Land Rights Network – Habitat International Coalition
Shadow Ministry of Housing blog
Al-Shehab Institution for Promotion and Comprehensive Development
Tadamun: The Cairo Urban Solidarity Initiative
Takween Integrated Community Development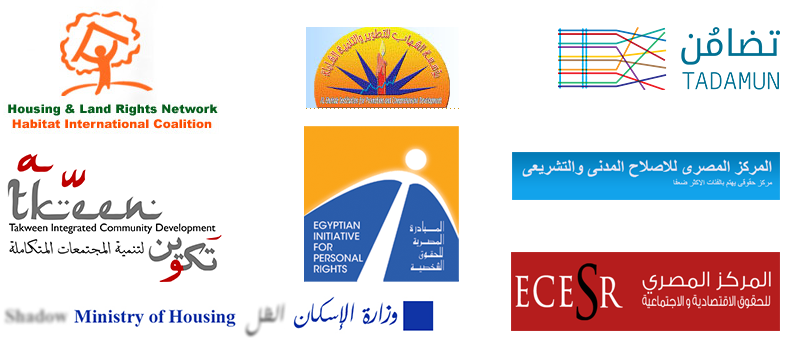 Published on March 27, 2014